We know it, motherhood is hard.  All you want is a little more time — time to spend with the kiddos, yes, but also – dare we say it – a little time for yourself, with your husband, with your friends.  Just a little more balance. To feel a little bit more like a cool mom, and not just one of those moms in mom jeans…
Luckily, technology is on our side…stepping up to help us out. Big time. Some pretty great services are on the scene that can actually give you time back, and help you feel more like your cool old self again.
1) Instacart.
Yes, yes, as working moms we are total Instacart proselytizers!  We swear it has given us hours of our life back, not only saving time going to the grocery store but also avoiding the aggravation of fighting with our kids about what items we will (and will not) buy. Although items on Instacart can cost a bit more (approx. .50-$1.00 per item more), we love the convenience and actually save money by not buying all that other junk that the kids throw in our cart when we aren't looking! Plus, for only $3.99, you can get your groceries delivered to your home from multiple stores within 2 hours! As design devotees, we also love the slightly French looking logo and lovely font!  And all the reusable bags.  (Oh yeah, and check out the awesome recipe integration with Yummly!)  Thank you, Instacart.  We feel a little more like our old selves already.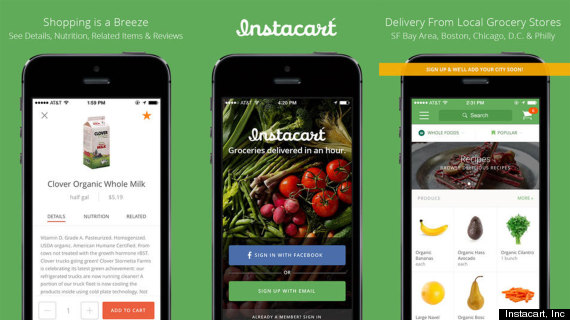 2) Next, Drizly.
Ok, this is like Instacart but for wine.  And beer and liquor and stuff. Right??? So helpful when you are having book club or a dinner party and don't have time to do that one last errand to get the wine.  Super easy and helpful.  A great hostess trick!
3) Handy.
Ok, this one isn't in our local area yet, but my sister swears by it and I could not be more excited for it to get here stat. We want broken stuff fixed ASAP (especially if this isn't your husband's strong suit). Plus, their hookup to cleaning services is supposedly great.  Nice to have some help on-demand, when you need it, be it on a regular basis or just when things get really out of control.
4) Spotify.
Simultaneously keeping you hip and the house, happy.  Our favorite playlists include Feel Like Gatsby, Feelin Good and Deep Focus.  Also – instant party – be the hero when you share Happy Birthday, Happy Hour, and Ultimate Pre-Wedding Playlist (depending on the occasion of course!).
While we are on the subject of good stuff to listen to, everyone reading this needs to make sure they have a great podcast app on their phone. On the iPhone, you should automatically have a purple "Podcasts" app on your screen which works just fine to quickly and easily listen to podcasts, but there are also other podcast apps you can download too. There is nothing that makes a commute or the laundry go faster than listening to an awesome podcast, be it Serial, The Longest Shortest Time (amazing for new parents), or (our favorite for entrepreneurial types) How To Start A Startup.
5) Ink.
It feels like two things that are always on the to-do list are to write thank you notes and to connect with relatives, especially those who are older and live alone.  Ink is a great app that lets you do just that via custom photo cards from your phone, designed and sent automatically from your home. We've made amazing birthday thank you cards, Easter cards and just little ones to say "hello, we miss you" with a cute pic of the kiddos.
At first, Ink may seem a little expensive at $1.99, but after you think about the card expense, your time, plus a stamp, it all seems worth it.  And Aunt Shelly agrees!  Now you can be more efficient but still express gratitude and thoughtfulness. What could be cooler than that?
6) Stylevise.
Ok, this one is ours. And it's not even really an app yet. But it is a website, and you can check us out at www.stylevise.com.  Stylevise is there for you when you are stuck trying to figure out what to do with an area of your home, how to tackle that birthday party, or what to wear to that big wedding next month.  Just submit your dilemma for free and we'll get our roster of talented stylists on it, sending you bids for how they would solve that problem ASAP.
As my sweet son Nick would say, "easy peasy, lemon squeezy."  And it's fun and tailored to your budget. Plus, it's exciting to get to know talented stylists from all over the world, and get their fresh new perspective and great ideas!
So, voila! Now that your fridge is full, the wine is poured, the house is clean, the music is on, you can Style It Up A Notch with Stylevise.  And all the sudden, you feel like yourself again. And yes, like a cool mom, with everything under control (ok, mostly), happy and beautiful.
If there are any other cool-mom-apps you are loving, leave a comment and let us know…and please send this to friends so they can contribute! We'd love to make a cool infographic with all the must-have apps for moms, and share it with everyone. Thanks so much!